Do you have a group of young people who are super excited about science? Are you looking for a field trip that supports what your students have learned, while taking their knowledge to the next level?
The Citizen Science Lab is here to help!
We offer Group Programs for any youth-based group (including schools, scout groups, clubs, nonprofits) that wants to get hands-on with science! Are you looking for just one visit, or for us to come to your school all semester long? Programs are offered on an as-requested basis, so you can let us know a schedule that will work best for you. Our programs are broadly sorted into two groups: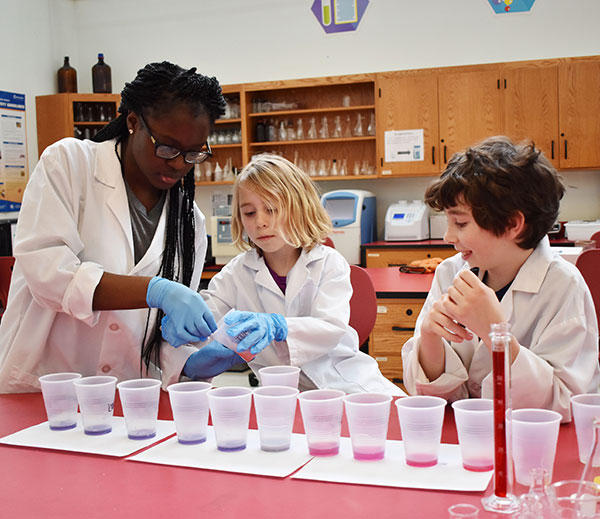 ON-SITE EXPERIENCES
Bring your group to our university-grade Laboratory in the South Hills! We have a wide range of equipment from your standard pipettes, fridges, incubators, and centrifuges to more unique equipment like our elisa reader, UV stratalinker, and gene gun. Our materials aren't only limited to chemistry and biochemistry, we also have 3D printers, drones, iPads, and a variety of materials to tackle almost any laboratory learning.
Participants are provided personal protective equipment (PPE) as necessary, including branded lab coats (for use at the lab only), eye protection, gloves, and access to other lab safety equipment.
OFF-SITE EXPERIENCES
If field trips are not a possibility for you, we also offer programs right at your location! Our instructional staff will bring all of the lab equipment, materials, and PPE necessary for your learning.
We will require appropriate table space, seating, access to water, and a set-up area for our staff. Note that while we prefer to be set up in laboratory type spaces, we can also do programs in a regular classroom space as well.
Take a look at our most current program catalog to see what we can do for you!
Contact us at cslhq@thecitizensciencelab.org for more information, or to book your program!