The Citizen Science Lab is here to help you and your students answer the hardest question they will have to answer all year: So… what do you want to do this summer? 
Maybe they want to investigate a faux crime scene, and use advanced laboratory skills to figure out who committed the crime? That criminal will regret leaving any traces behind!
Or perhaps they would like to grab a scalpel and see what makes a shark tick? Who knows, maybe you'll find the remains of its last meal!
You could also find out what kind of things are living on the surfaces you touch every day. What's that thing growing in my petri dish, and I wonder if I can make it glow in the dark?
Join us at our undergraduate level Laboratory in the South Hills for our own unique spin on Summer Camp!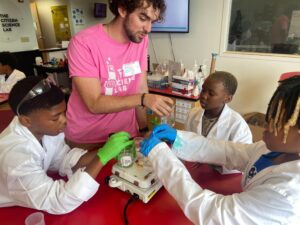 Have a question? Please take a look at our Summer Camp Handbook for some more information and frequently asked questions!
Summer Camp Schedule
Summer Camps begin registration in late November to early December. Keep an eye out here, or sign up for our mailing list!